Web Development
Web Development Company In Chennai
What is Web Development?
Generally, web development is a process of making a website for a business like industrial and social, etc. The development of websites includes web design, web content development, server-side or client-side scripting, network security configuration, and other tasks. There are several web development services are available in industries the choosing of services are based on business type and programming languages. Powered by Best Web Design Company In Chennai.
Does Web Development Have Any Types?
Static Web Development
Dynamic Web Development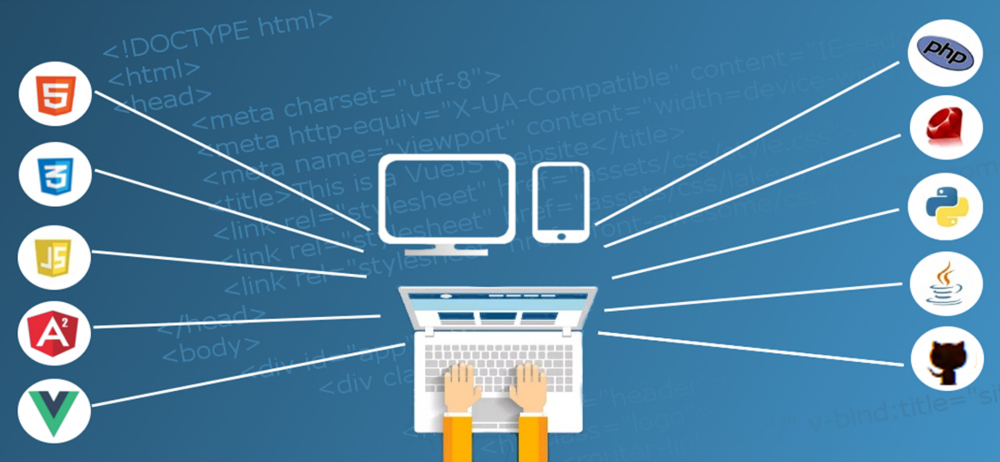 What is Static Web Development?
The static websites are kind of websites these are coded in HTML and CSS but here no scripting. The hyperlinks are the only form of interactivity on static websites. In static websites, the delivering speed of the webserver is quick for hosting purposes some dedicated servers are available at a reasonable price. We can design professional static websites as per your requirements. Here, we are the Best Web Design Company also Best Web Development Company In Chennai.
What is Dynamic Web Development?
Dynamic websites are similarly coded in HTML and CSS but it has website scripting and it contains information. These kinds of Websites are easier to maintain and highly useful for e-commerce and shopping portals. Hence dynamic websites have good designs, contents, and tabs, it gives a professional look to a website.
E-commerce
The products can be buying and selling online or the internet is called e-commerce. This is also called as e-business or electronic business. Most importantly the internet is a medium for e-commerce business. It includes data or information transfer between two parties. It is easy to build a website and start your business online.
How to Start an Ecommerce Business?
Decide product what you want to sell
Choose your business model
Select your business domain name
Select E-commerce website builder
Create your E-commerce store
Set payment gateway method
Websites are built with the latest technologies and innovations for different marketplaces. Certainly, it supports payment gateway integration, multiple languages, multi-currency also portable for shipping.
What Are the Most Prominent Technologies in Web Development?
Full Stack Development
Python Development
Sitecore Development
What is a Full-Stack Development?
It is a combination of front-end, back-end, and database technology. This kind of combination has made the web developers move on with full-stack.
Reason for Full-Stack Technology in Web Development
Perfect for Small and Medium Enterprises
Unique code for multiple technologies
Multi-technology projects with great user experience
Easy to upgrade
Best in economical
What is Python Development?
This is one of the ruling technologies for back-end programming. Python is an open source language and one of the most popular and important languages for web developers.
Reason for Selection of Python Development
User-friendly data structures
Portable and Interactive
It needs Less coding
Easy to Learn
Open source and community development
What is Sitecore Development?
Sitecore is one of the foremost enterprise-level Content Management System(CMS). Which is affordable and widely used in small, medium, and large scale enterprises, government and nonprofit organizations, and business organizations.
Reason for Sitecore Technology in Web Development
User-friendly Interface
Multi-site development
Suitable for multi-devices and browsers
Advanced development environment
Integrated translation for multilingual websites
Consequently, Sitecore development can perform all kinds of marketing automation along with the organization level web development.
What Are the Technologies Used in Web Development?
Magento
jQuery
WordPress
Php
Ajax
Java Script
PrestaShop
HTML
CSS
Top 5 Web Developer Tools
Elementor
AND CO
Atom
Invoice Berry
Testim
What is Web Design?
The designing of websites include web graphic design, interface design, user experience design, and Search Engine Optimization(SEO), it may cover all aspects of the designing process. While creating websites designers have awareness about usability and web page speed.
What is a Custom Web Design?
It is the process of understanding your business or understand the business needs of your clients before any creating web design. Customizing web design allows you to keep data in sync, integrate data systems, and add dynamic content and flexibility.
Customized websites can enhance business in online. Because the possibilities of changes as per needs and requirements are high.
The benefits of custom web design include scalability, better UI, customized solution, security, and SEO friendly.
Mobile UI Design
This is the graphical design of the user interface such as mobile and tablets. The reputed mobile UI design has delivered the top-notch user experience. This is innovative, neat, and relevant to the mobile application functionality.
The complete objective of UI design is to boost the user experience and makes the user's interaction as straight forward and effective to our business.
Therefore the benefits of mobile UI design include consistency, compatible, friendly interface, alternative features, and effortless uses.
What is Responsive Web Design?
First of all, the biggest benefit of responsive web design is flexible to adopt different devices and their screens. Every business required their websites or web pages should be optimized for all kinds of devices, browsers, and operating systems.
When the website is performing well in these devices like desktop, tablets, and mobile that kind of website is called responsive and adaptive design. In responsive websites, contents are moved dynamically depending on the size of the screen. In adaptive websites, content is fixed in layout then automatically sets the best layout for the current device screen. Therefore, the web design should be UX design. UX design includes look, feel and another one is usability.
What Are the Benefits of Responsive Web Design?
Super flexible (Websites can automatically rearrange depending upon the screen size)
Good user experience
Consolidating analytics and reporting from Google Analytics
Easy and user-friendly navigation (It can control bounce rate)
Improve Search Engine Optimization(SEO)
It will increase mobile traffic
Best Web Design Company in Chennai
If you are searching for the Best Web Design Company or the Best Web Development Company In Chennai, here JB Soft System is one of the Best Web Design Company In Chennai. We are using advanced technologies and different methodologies to make websites. And certainly, we believe giving Quality is the best kind of advertising.
FAQ
Never fear, that's why we are here. You can learn about our time proven process in our process section.
A Website acts as a promotional tool that helps you to promote your business among a global audience. It helps in establishing a brand identity since a Website increases credibility of your business. You become more competitive since most of the businesses are establishing their presence over the Internet and you cannot afford to stay behind. To know more
A static Website is one that is written in plain Hypertext Markup Language (HTML) only. Each page is a separate document and there is no database that it draws on. What this means functionally is that the only way to edit the Website is to go into each page and edit the Hypertext Markup Language (HTML) tags - so you'd either have to do it yourself using a Webpage editor like FrontPage, Dreamweaver or pay the Designing company to go in and edit the Website each time you wanted something changed.
A dynamic Website is written using more complex code and can do a lot more. For instance, we can create a log in box through which one can change various parts of the site after he has signed in, such as adding information or products. This is because each page is constructed based on the information in a database, and the information in that database can be changed via another user friendly interface.
The dynamic Websites usually cost more to develop, as they require more complex coding and a content management utility needs to be developed to help you manage your Website information. But in the long run dynamic Websites are cost effective and easy to maintain.
Another benefit of dynamic Websites is that they allow you to change only the content of the site and not the design, so you will not be able to accidentally break the visual style of the Website. They have other benefits when Websites start to get very large, as they make data management much more efficient and your Website more expandable.
Many clients do a combination, having some dynamic areas such as a product catalog where they have to change information or pictures regularly, and leave other pages such as contact information as static pages.
Yes! Once the design for the main page has been completed it will be uploaded to our server for your approval. After approval the rest of Website will be developed.
Our team will take care of the setup, configuration and maintenance of the website, domain registration/administration, website backups, security hardening, server monitoring, uptime monitoring and website installation. Are hosting packages are annual subscriptions.
Yes, we would be happy to look at your existing website and give you a quote for updating it.
A content management system (CMS) enables you to maintain the content on your website without any additional software our technical skill. When using a CMS, you can add new pages, upload images and be in full control of your site - all you need is a web browser and an internet connection. To know more about CMS web design - Click
Yes, We provide all our clients with training on maintaining their website via the CMS.