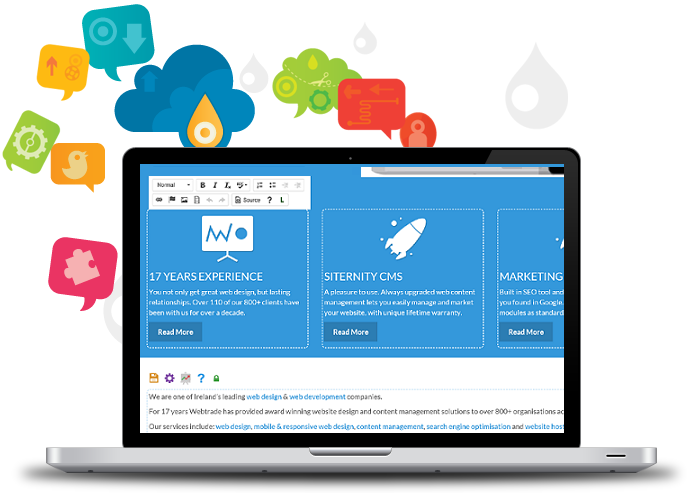 CMS website or Content managed websites as they are widely called are the websites that had existed for a long time but are being put into real use only recently.
These CMS website are also known as dynamic websites, it gives access for the website owners to safely edit and update fresh content onto their websites.
They offer simple WYSIWYG editors that can be used to create and manage content. This coupled with additional tools on the website makes a website a very powerful marketing tool and an information portal.
What are the benefits of CMS website?
SEO boost – Using CMS website, fresh and unique related content can be added, which gives the website more indexing capability on google search.
Updated information – Website owners can directly update and add information as and when required, which saves time and money for any updations.
User engagement – With a regular update or consistent blog post, user engagement and traction can be built.
New pages – Adding new pages on a CMS website is very easy and hence new services or location or products can be added on the fly.
Editorial access – All pages of the business website is editable by the owners, which gives them the edge to update statistics or corrections of content at any time.
And much more…
Why Businesses needs CMS websites?
The data for businesses are ever changing and hence it is best businesses maintain a dynamic website where they can keep their stakeholders with latest updates. Some of the points which a business should keep a constant update (at least monthly or bimonthly) are:
Images
Blog posts
Products & service information write up
Testimonials
Clients
Works
Projects
Case-studies
Service areas
All the above are very vital information which enhances a prospect's decision to select the business. When a prospect gets to see an updated website the probability of conversion increases greatly.
So if you're planning to have a website or already have one, make sure to go for a dynamic website which can give you an edge over the internet.
We at JB Soft System, specialize in creating impressive dynamic/CMS websites, get in touch with us to know more.