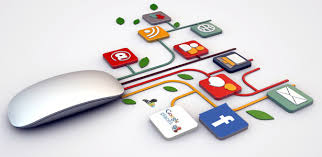 Online Tools are the catalysts for businesses in the digital age. The usage of internet on computers and hand held devices has increased exponentially in the past couple of year.
This is a positive sign for businesses, because in earlier days prospects were manually searched and targeted for conversion. But now prospects look up and search for business directly. They look for certain aspects which triggers a conversion, these triggers are enabled by simple online tools that can be used by businesses.
What are some of the key Online tools?
Unique web domain
Domain based email
Professional documentation – Invoices, Quote, bills
Online chat
While the list for online tools is a long one, we will look into the above for now.
Unique web domain
It is important for businesses to have an unique web domain. It marks as their identity on the web. It enhances branding and even enriches SEO. It is also suggested businesses should go for multiple domains with multiple extensions like .com, .co.in, .net, etc.
Having multiple domains ensure they are indexed well for an onlooker. They can either have separate landing pages leading to a main website or be directly redirected to the main website. It enhances visitor retention and increases visitor impression.
Domain based email
While your hotmail id is as old as you, it is best practice to have professional email with your domain. Getting a GAPPS or Gmail account for business is even better, because it gives much more technological options for a small subscription charge.
Having the professional email is a must when you market yourself.
Professional Documentation
Businesses should make use of latest online tools such as Google drive to manage their documents online. Documents can be shared, collaborated and accessed, easily and professionally.
Online tools like Google drive and dropbox now offer much more features in form of templates and themes; these can be directly used to create beautiful quotes, invoices etc.
Online Chat
This is a trending online tool, that any business website requires. People look for interaction when they are on your website and online chat offers you just that. A chat integrated on your website and connected with a mobile app, you can directly engage with your prospects on the web. This boosts your online business model while giving you instant results.
To know more about online tools and have a taste of our professional consultation and services, get in touch with us.